Five Best Compostable Disposable Cups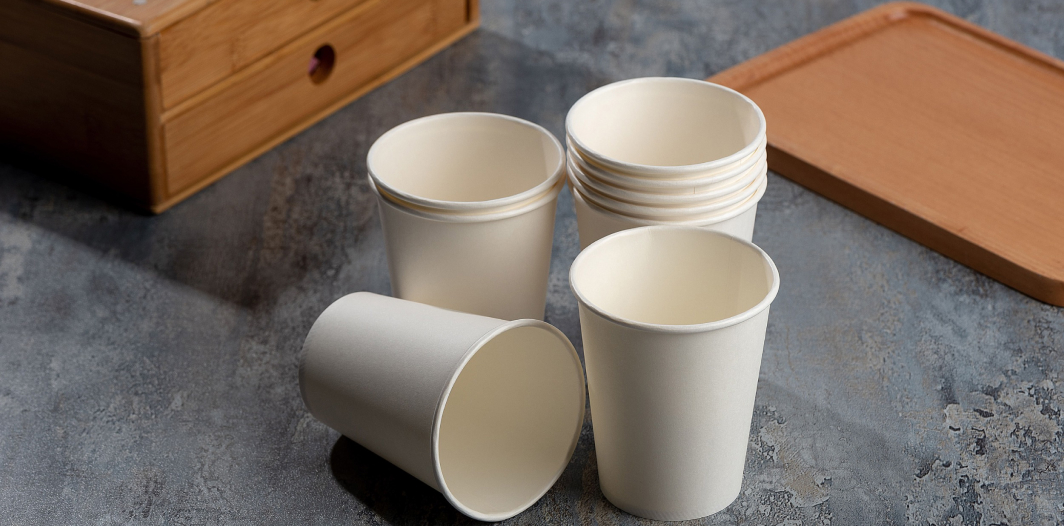 Living sustainably means making conscious choices about the products we use in our daily lives and businesses. In the food service industry, disposable takeout cups and lids are a staple, but it's vital to choose a disposable cup that minimizes environmental impact. Compostable disposable cups are the ideal solution. We've compiled a list of the five best to help inform your choices in single-use items.
1. Greenprint Hot and Cold Compostable Cups
Greenprint Products is an innovator in compostable single-use products for food service applications. Our disposable hot and cold compostable cups are made from paper, lined with proprietary aqueous coating technology. Unlike conventional paper beverage cups, which are coated with a petroleum-based plastic, Greenprint disposable compostable cups can be safely disposed of in your home compost or through a curbside program. If they end up in a landfill, they will break down quickly and won't leach toxic compounds into the environment.
Greenprint Compostable Cup Pros and Cons
Pros:
Compostable in either home and industrial compost
Marine biodegradable
Paper cups coated with compostable aqueous solution linings
Several sizes available
Hot and cold beverage cups available
Next day shipping & Best Pricing
Neutral appearance suits any brand
Cons:
Custom printing will be available by Q4 2023, until then only blank white cups
2. Phade compostable cups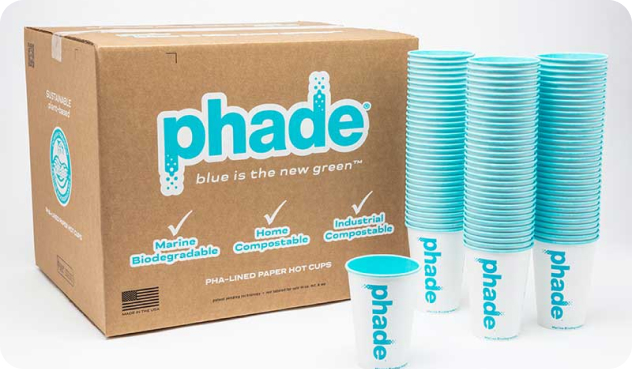 Phade single-use cups are made from paper and coated with PHA. Their features and attributes are much like Greenprint compostable disposable cups—but their branding might not be the best match for all applications.
Phade Compostable Cup Pros and Cons
Pros:
Compostable and biodegradable
No plastic
Recycle or compost
Marine biodegradable
Cons:
Phade branding is prominent and might clash with your branding
No style or color alternatives
Limited cup and package sizes currently available
Expensive compared to alternatives
3. World Centric Compostable Cups
World Centric offers an extensive selection of hot and cold single-use cups and accessories (lids, sleeves, etc.). Made from paper and PLA, their products are compostable and biodegradable in home and curbside programs.
World Centric Compostable Cup Pros and Cons
Pros:
Lots of styles, sizes
Hot and cold cups
Paper and PLA construction
Neutral styles
Compostable
Mid-range pricing
Cons:
4. Go Compost Compostable Cups
GO Compost offers hot and cold beverage cups and accessories made from paper and PLA. Their company focuses exclusively on compostable products, offering a wide range of everyday items and composting equipment beyond food service items.
Go Compost Compostable Cup Pros and Cons
Pros:
Diverse selection of styles and colors
Three sizes
Biodegradable
Compostable
Neutral appearance
Cons:
PLA may not be recyclable in your curbside program (must be composted)
PLA requires temperature-controlled storage
Mid-to high pricing
5. Good Start Packaging Cups
Good Start compostable disposable cups are made from paper lined with PLA (for hot beverages) and PLA bioplastic (for cold drinks).
Good Start Compostable Cup Pros and Cons
Pros:
Hot and cold cups in various sizes
Excellent selection of lids and other accessories
Paper and PLA for hot, PLA for cold beverages
Neutral branding with compostable certification clearly displayed
Cons:
PLA may not be recyclable (compostable only)
Cold beverage cups not compostable in-home compost (requires industrial composting)
PLA requires temperature-controlled storage
For the best quality and value, shop Greenprint Products compostable cups today.